---
It's about that time. I don't make any bones about it.  My favorite season is Autumn.  Not too hot and not too cold.  It's perfect. Just, perfect.  As, I'm not a fan of sweating profusely and nursing scorching-heat-triggered-migraines.  The vivid artistry of fall foliage makes me swoon and pay homage to Mother Nature. The explosion of crimson, amber and orange hues dazzles the tree branches and sets the sky on fire.  It never grows old.  Albeit a brief romance; it packs a punch during its peak.
"The crunching of the leaves when walked on is rhythmic, hypnotic and weirdly soothing to my ears."
There's no need for the A/C, you can open the windows. The brisk, night air is an invisible cocoon of delight.  And, who doesn't love a yummy, Starbucks pumpkin spice latte?  It signals the starting bell for toasty beverages. Funny thing, I hate all things pumpkin; but, I get swept away in all the Autumn euphoria. LOL!
My husband and I live two hours from Newport. That, in itself, is a real treat.  A basic road trip that doesn't require a lot of bells and whistles. We're there before we know it.
"Newport is stunningly beautiful with its iconic lighthouses; coastal beaches, lobster rolls and vintage New England charm."
It feels like we're a world away.  It is most famous for its Gilded Age mansions. The most opulent of them all is The Breakers, an 1895 mansion patterned after a Renaissance Palace. It was the summer home for the filthy rich Vanderbilt family.  Newport is also a gem for jazz lovers; it's been the home of the Newport Jazz Festival since 1954.
I fell in love with the city about five years ago, when I went for the first time. It never crossed my mind before; even though I've lived in Connecticut since 1987. Q had been there numerous times before we dated.   He got a kick out of seeing my face as I took in all the beauty, history and wonder like a sponge.  Since 2015, we have been to Newport three times and have stayed at three different B&B's; to get a different perspective and appreciation.  Suffice to say, we are bonafide B&B people.  Not that we don't enjoy boutique hotels and fancy chains; they have their place.  But our hearts sing out for the quaintness at these private retreats.  It's a little piece of heaven on Earth.
"Meet Coquette. The gorgeous cover girl for this story.  She is the unofficial mascot and greeter at the Sanford-Covell Villa Marina B&B."
This is where we stayed two years ago. Coco, as she is fondly called by her "parents," was full of grace and charm; yet, relaxed, friendly and unpretentious.  Just like the B&B.  She basked in the shade while sitting on the front wraparound veranda near a porch swing that I absolutely loved.  Coquette's presence gave the place a homey feel.
This spot is a 19th century Victorian home loaded with character, personality and delicious backstories.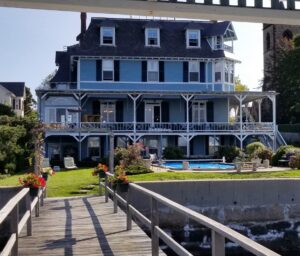 The innkeepers are walking Wikepedia's. I wondered who lived in this house in its heyday; if only these walls could talk, right?  Thank goodness they didn't, surely, I would have jumped through the roof.   I took notice of all the handsome details in our bedroom– real hardwood floors, woodwork lattice ceiling, crown moldings, stained glass dresser lamps, a metal contraption to hang a man's suit coat and beautiful hexagon patterned black and white bathroom floor tile, even an old-fashioned radiator.  Of course they have updated many of the amenities to the 21st century.  LOL! The king size bed was so comfy with ample king sized pillows.
"But the best thing hands down was the breathtaking view from the bed. Three windows overlooked Narraganset Bay, populated with boats and the impressive Newport Bridge in the background."
It was spectacular to witness the technicolor sunrises and sunsets.  It was so quiet at night that we couldn't hear a cotton ball drop if we tried.  We never had a stacked list of things to see and do.  Q and I love to play it by ear; we may have one or two things in mind and then we let the rest of the day evolve. Who needs to run around crazy with deadlines and tight schedules? We enjoyed having breakfast at the B&B; we met a couple from London and one from Australia. I never get tired of hearing that lovely Australian accent.  The wife sounded like Nicole Kidman.
"A mini-vacay should be the time to do lots of nothing and be happy about it."
We like taking walks, sightseeing, strolling downtown not far from the B&B, shopping at cute gift stores (my favorite is Primavera), which has the funniest, sarcastic coasters, napkins, lotions, mugs and pretty earrings.  Very eclectic. As long as Q gets his seafood, we're in good shape. We also don't have to get dressed up if we don't want to. Sandals, tanks and shorts is mighty fine!
If you have never been to a B&B, you might consider it.  Especially if you're a history buff. Please take the time to unwind and exhale. Explore wonderful and unexpected places in your own backyard that tap you on the shoulder with delight.  You may even be blessed to meet your own, Coquette.  Hopefully, we'll be back next year.
.  .